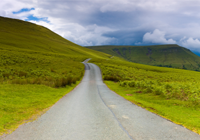 Acceptance and Commitment Therapy (or ACT) can be a very effective treatment for depression, anxiety, stress, addictions, and other psychological issues. ACT therapy focuses on 3 main areas. (1) Accepting your thoughts and feelings and being present. (2) Choosing a valued direction (3) Taking action.
ACT has a radical view of pain and suffering. "What if pain were a normal, unavoidable part of the human condition, but avoiding or trying to control painful experience were the cause of suffering and long-term problems? " ACT works to help free us from the trap of trying to control painful experiences, and instead engage more fully in the life we are living.
The mindfulness part of ACT teaches us skills for handling painful thoughts and feelings. The action part of ACT teaches us to take action on what really matters most in our lives. The goal of ACT is to create a rich, full and meaningful life, while accepting the pain and loss that inevitably comes with life
Learn more about Acceptance and Commitment Therapy.
ACT Therapy Can Help
Studies have shown that ACT is an effective therapy for depression, anxiety disorders, addiction and somatic health problems. ACT therapy helps you (1) Contact the present moment and be here now. (2) Step back and look at your thoughts as thoughts, rather than acting on automatic pilot. (3) Make room for all of your inner experiences, including the painful ones. (5) Identify what matters most in your life and (6) Take action on what really matters to you. Many of my clients have found that ACT helps them change the way they relate to painful thoughts and feelings– and helps them begin to engage in their lives in a more rich, full and satisfying way.
Contact Me
I'm a San Francisco Psychotherapist with advanced training and experience in ACT therapy. Please call my office at 415-242-9866, text me at 415-745-0612, or email me at jimchristrup@gmail.com for a free 20-minute initial phone consultation or to schedule an appointment.